Change to / wechseln zu

Deutsch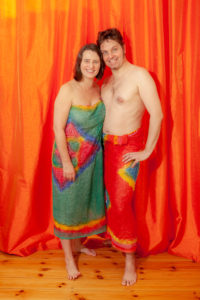 This is the queen of massage practices, a ritual of worship that is the living heart and soul of our Tantra Institute. You will be tenderly and reverently interwoven within the charged field between Shiva and Shakti. The love that flows between us, a tantric married couple, enchants you, envelopes you and carries you to your very own paradise where the world radiates with happiness. You can fill your soul with male and female energy, encounter them, play with them, snuggle up to them. In this deep, sheltered relaxation you can also take the path to ecstatic Sacred Lust. You can even have both in one massage. We are big-hearted and gentle, wild and creative, earthy, fiery, watery and airy. As a couple, we enjoy your enriching presence, playing wonderfully wildly. Without dogma, with in-depth experience.
Book your Wild Life Massage here
This four-handed tantra massage lets you melt into an ocean of intimacy and touch. Not only four hands await you, but also four arms, two soft breasts and a gentle man's chest, two heads and four legs. Tantra massage is a holistic body-to-body massage with a great deal of intimacy, loving care and eroticism. We are all naked, the Temple of Love is a place of beauty with a sensual aroma and caressing music. The massage is an intensive ritual of Love-Giving, Tantric Love that arises from a profound bond with all life; the divine Love that knows no opposition.
You are fully passive, giving yourself the gift of our cosseting, our attentiveness, our competence and our unique passion as we take you away to paradise. Skin to skin, body and soul, you will discover the Wild Life Path.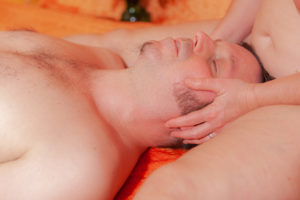 We also offer the four-handed Wild Life Massage as tantric sexual therapy healing session.
If you're not sure if tantra massage is right for you, simply give us a call and talk to us. We gladly take all the time you need.
Looking forward to seeing you!
Namasté
Tandana & Chono
Further posts on Wild Life Massage
Change to / wechseln zu DeutschCombining tantra massage with coaching to learn the G-spot massage and female ejaculation – for women and couples "In the Western world, the female ejaculation is a wild, orgiastic experience. Many women find it so…