Change to / wechseln zu

Deutsch
Valentine's day? Wedding anniversary? Birthday? Christmas? Just because! Give your relationship a very special gift – the Ritual of Love. Come together with Tandana & Chono, a tantric married couple, deeply in love, who would very much enjoy welcoming you to their warm, sacred space. We greet you as kindred spirits, equals, and wish to give your relationship a uniquely caring and sensual gift.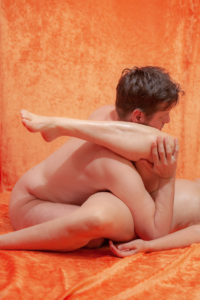 The energy between couples is extraordinary and distinct, radiant and sublime. It is an energy of enormous balance, reciprocity and appreciation. Even if you are practiced in an unfettered sexuality and in handling jealousy, when letting your partner go, fears and doubts are only natural. It is incredibly comforting to know that all involved are well taken care of and no one needs more from the other because the lovers' deep bond and love hold the space.
Without question, in our professional role as tantra masseur/masseuse the ritual is, that means you are, our focus. Private interests are left at the Temple door. Still, when it comes to releasing your partner to someone unknown, tantric ethics and your heart's stirrings are two different things. Our experience shows that our strong, stable relationship inspires couples to completely relax and find joy in letting go.
Being touched by more than two hands is an especially deep, yes, oceanic experience. We are normally conditioned for touch by two hands only. At four hands, our intellect leaves the room and at six hands we have no other choice but to truly surrender. Our minds cannot follow so many hands, cannot predict where they will go. This is an exceptional sensation, you could say it is a sensual ecstasy. Each pair of hands has its own, intrinsic dynamic, sometimes more active and sometimes simply holding a place on your body, depending on where the massage current flows.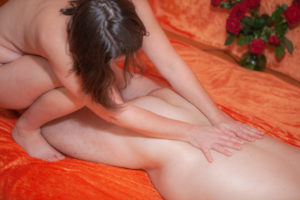 Often, our horizons do not extend to imagining truly amazing things in our lives. And, naturally, a two-handed massage is also a deep pleasure.  Yet, should you wish to expand your horizons to include more passion, more sensuality than ever before experienced, we recommend the four-handed massage. An utterly new massage dimension awaits you, a chance to let go and completely dissolve all identity.
This ritual of four can take a variety of shapes. You can decide which option is most attractive to you. It is possible for one of you to participate as masseur or masseuse, or not. You can partake of the massage at the same time or one after the other, even on different days. Here's a few examples:
Tandana and she, i.e. two women, massage him, and then she is massaged by Chono and him, i.e. by two men.
Tandana and he massage her, i.e. a woman and a man, and then he is massaged by Chono and her, i.e. also by a man and a woman – in this constellation, a prickling energy emerges between those massaging which can be highly arousing for the massage recipient.
Both partners are massaged one after the other by Tandana and one of you. Chono doesn't massage at all.
Both partners are massaged one after the other by Chono and one of you. Tandana doesn't massage at all.
Chono & Tandana massage both partners one after the other. The partner simply watches or is not present at all.
Both partners are massaged SIX-HANDED one after the other by Chono, Tandana and a partner – the pinnacle of tantra massage.
Both partners are massaged at the same time: Either he by Tandana and she by Chono (opposite gender), or he by Chono and she by Tandana (same gender).
As you can see, just planning, sensing your wishes and realizing the possibilities opens an alluring realm of fantasy! Your best bet would be to call us – no obligation – and we can speak personally. You can reach Tandana at +49 (0) 151 424 33 280 or simply send us an email.
We look forward to being with you!
Tandana & Chono
P.S. Would you like to have a better, more fulfilling sex life? We gladly offer our guidance!
More posts on Tantra massage for couples
Change to / wechseln zu DeutschCombining tantra massage with coaching to learn the G-spot massage and female ejaculation – for women and couples "In the Western world, the female ejaculation is a wild, orgiastic experience. Many women find it so…