Change to / wechseln zu

Deutsch
Tantra massage is a most profound experience of worshiping your humanness. It is an act of reverence for your man-ness or woman-ness. A tantric massage is a deeply sensual or erotic treatment for just about anyone. For you, stressed business traveler in Berlin looking for relaxation and something novel. For you, hungry youngster aching for sexual fulfilment. For you, experienced tantra practitioner seeking to connect on all levels along your path. And certainly for you, sexually traumatized human being longing for tender, respectful support on your path to healing.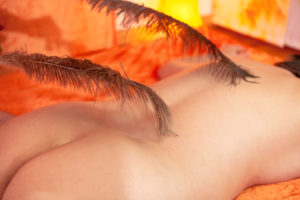 Every tantra massage begins with bowing low to the miracle you are – a wonder created in God's image with all your shadows and light, your supposed deficiencies and weaknesses. This naturally includes people with so-called handicaps.
You and your masseur /masseuse are completely naked. The space is toasty-warm, lovingly furnished and smells delicious. For the tantra practitioner, this is the Temple of Love. During the tantra massage, we will gift you with exceptional intimacy, gently enveloping you in security, care and acceptance. This is a holistic practice, guiding you toward profound relaxation as well as to the fire of Sacred Lust. We surrender our entire body – except the genitals – to your touch and intimacy. The tantra practitioner takes his or her time to revere, stimulate, relax, knead or simply caress every aspect of your entire body. She touches your heart as well as your lingam or yoni (the tantric term for penis and vagina, cock or pussy…whichever you prefer).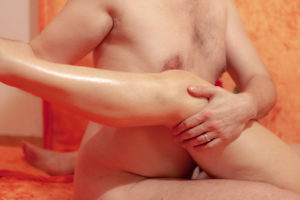 You can book one or both of us. Our four-handed massage is a unique experience. Here, you become the corridor of magnetism between Shiva and Shakti, between Chono and Tandana – a tantric married couple, passionately in love. With the two of us, you will glow and shine with passion, completely forgetting the world around you as profound ecstasy takes hold and we let go utterly, dissolving into the moment, explode and return reborn.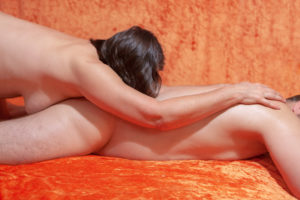 We offer you a taste of the Wild Life Path, simply because you're there.
Your lust is sacred, we are open to receive you – exactly as you are.
We are looking forward to meeting you
Chono & Tandana.
[shariff]
More posts on this subject
Change to / wechseln zu DeutschCombining tantra massage with coaching to learn the G-spot massage and female ejaculation – for women and couples "In the Western world, the female ejaculation is a wild, orgiastic experience. Many women find it so…